Regular price
$289.00 USD
Regular price
$269.00 USD
Sale price
$289.00 USD
Unit price
per
Sale
Sold out
Step into the shining armor , the enforcement of the galaxy and channel your inner Trooper, with this grand master saber from Parsec Sabers! Take the challenge and embark on your next battle with confidence, power and style. Ready, set, fight!
"The Trooper" features a design element commonly called a "thin-neck", which adds an extra level of authenticity to the look of the saber. This design feature is well-suited for cosplay and light duelling, as it gives the saber a more accurate appearance to the original weapon. However, it is important to note that due to its structural design, the thin-neck may be a weak point under heavy or repeated contact. Thus, it is not recommended for heavy duelling or sparring. It's ideal for those who want to add an extra level of realism to their cosplay or for light duelling with friends.
 STATS
Size Of Hilt:
28.7cm
Size Of Blade:
 2mm thickness | OD

⅞

 inch |
Spinability:
⭐⭐

⭐⭐◽
Share
View full details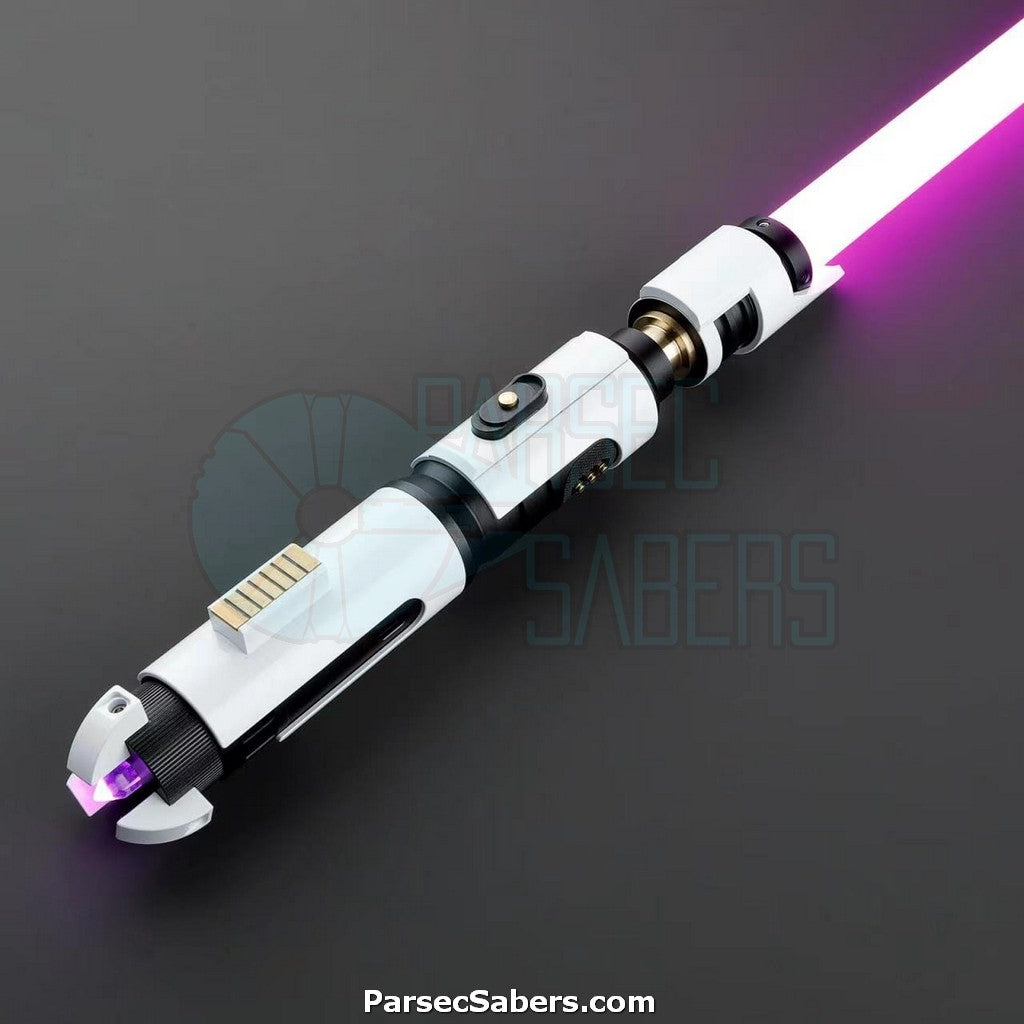 We Recommend purchasing at the same time
A Master Saber...
Unleash the full potential with our Master Sabers. These powerful weapons are a step up from our Apprentice Sabers, boasting more intricate designs. With all the same features as our character inspired sabers, but at a more accessible price point, these sabers are the perfect choice for the hero, or villain... who has honed their skills and is ready to take the next step in their journey.
Collapsible content
Baselit Xeno-RGB:

Baselit Xeno-RGB – This electronic board utilises an in-hilt led which illuminates a hollow blade. Baselit Xeno-RGB sabers also have a standard set of features. Including Advanced Smooth Swing sounds with around 16 different sound fonts (which can be increased using the Baselit Booster Sd Card), blade modes (unstable mode, stable mode, pulse mode), saber lockup, flash on clash, blaster deflection and infinite colours to choose from. Additionally, it also has motion control which means you can turn it on and off and change soundfont without pressing a button. The saber can also be controlled by using the Parsec Sabers App (coming soon)

 It's perfect for those who are new to the hobby, those on a budget, or those looking for a duelling saber (It is important to note that not all hilts are suitable for heavy duelling, please ensure that you check the product descriptions of you saber to make sure of this).
Xeno-Pixel

Xeno-Pixel – Xeno-Pixel is the next-generation electronic board that is designed to offer the most realistic experience possible.

It is the successor to the XenoPixel V2.

It features the latest Parsec Pixel blade, which uses a bright 50W RGB colour-changing pixel setup to create stunning visuals that are sure to impress.

The Xeno-Pixel sabers are also bluetooth enabled. With the mobile app capability, you can easily customize your saber's settings and effects and also update the firmware when available from your smartphone.

Xeno-Pixel also features an audio cue for switching modes and settings.

Xeno-Pixel sabers have high quality sound effects including advanced smooth swing, accent swings, spin sounds, and more to provide a realistic feel to your movements, making it feel like you are wielding a real saber.

Xeno-Pixel comes with a programmable SD card, allowing you to customize and store your soundfonts and effects.

It also includes preprogrammed customizable blade effects, such as tip drag, blade lockup, rainbow mode, unstable mode, stable mode, pulse mode, cracked mode, fire mode, blaster mode, and more. With 34 preinstalled soundfonts, you can choose from a wide range of different styles and themes to suit your preferences.

Xeno-Pixel & XenoV3 builds on the features of Xenopixel V2, including the motion control, infinite colors, different ignitions, and blade effects.

Overall, XenoV3 is an impressive electronic board that offers a wide range of customizable features
What Is The Difference Between Xeno RGB And Xeno Pixel?

What is the Difference? – First, it's important to note that there is no difference in hilt quality or design between a Baselit Xeno-RGB or a Xeno-Pixel saber.

The main differences between a Baselit Xeno-RGB or a Xeno-Pixel is the amount of features that each saber has.

Baselit Xeno-RGB sabers are perfect for duelling, whereas Xeno-Pixel sabers are great props for media where different lighting effects are required.

The Xeno-Pixel have more features due to the more advanced electronics that can utilise our pixel blades. 

Although the pixel blades can allow for more features it also means that Xeno-Pixel Sabers cannot be used as heavy in a duelling scenario as heavy duelling may damage the internal LEDS. (We usually recommend light to medium strength, just enough so that it looks good on camera).

All of our sabers have the same hilt between the 2 options, the only difference is the internal electronics and the type of blade that is used.

For more information please contact us via the chat feature on our website