Regular price
Sale price
$20.00 USD
Unit price
per
Sale
Sold out
Introducing "The Parsec Fandom Bundle" - an extraordinary collection that transcends time, speed, humor, and magic. Prepare to embark on a journey through multiple universes, where iconic elements merge, creating an unprecedented experience like no other.
Within this bundle lies "The Time Screwdriver," a soundfont that transports you to distant galaxies while evoking memories of a certain little blue box. With its finesse and versatility, you'll wield the weapon of a skilled warrior, channeling the unmistakable sound of a Lord of Time and Space's trusty tool. Embrace the thrill of battle and enter the ultimate crossover event.
Next up is "The 96," a soundfont that infuses your saber battles with the energy and excitement of a legendary racing icon. Imagine the iconic "hummmm" of a saber taking on a whole new dimension. Whether you fight for the light or embrace the dark, this soundfont adds drama and comedy, transforming your duels into captivating spectacles. Unleash your inner saber warrior and claim your place in the annals of legends.
But that's not all. Behold "The Doh Nut," a soundfont that replaces the familiar "whoosh" of a saber with the unmistakable voice of a beloved animated character. Brace yourself for hilarity as your saber battles reach new levels of amusement. With this soundfont, you become the ultimate saber jester, bringing laughter and entertainment to every clash.
Last but certainly not least, "The Legacy" awaits. Step into a realm of wonder and imagination, where magic reigns supreme. Perfect your charms or combat dark forces with this Xeno Sound Font, inspired by a mystical world that has captured hearts. Unleash your inner wizard and experience the enchantment for yourself.
The Parsec Fandom Bundle transcends boundaries and brings together the essence of these four remarkable soundfonts. Discover a universe where time, speed, humor, and magic intertwine. Embrace the thrill of battle, the laughter of jesters, and the wonder of wizards. Claim your bundle today and embark on a journey beyond imagination.
This Font Bundle Includes:
The Time Screwdriver,
The 96,
The Doh Nut,
The Legacy
DISCLAIMER: Any voice files or music tracks included in this sound package are provided FREE OF CHARGE! You are paying for the time and effort of custom building an audio package for your custom saber!
Share
View full details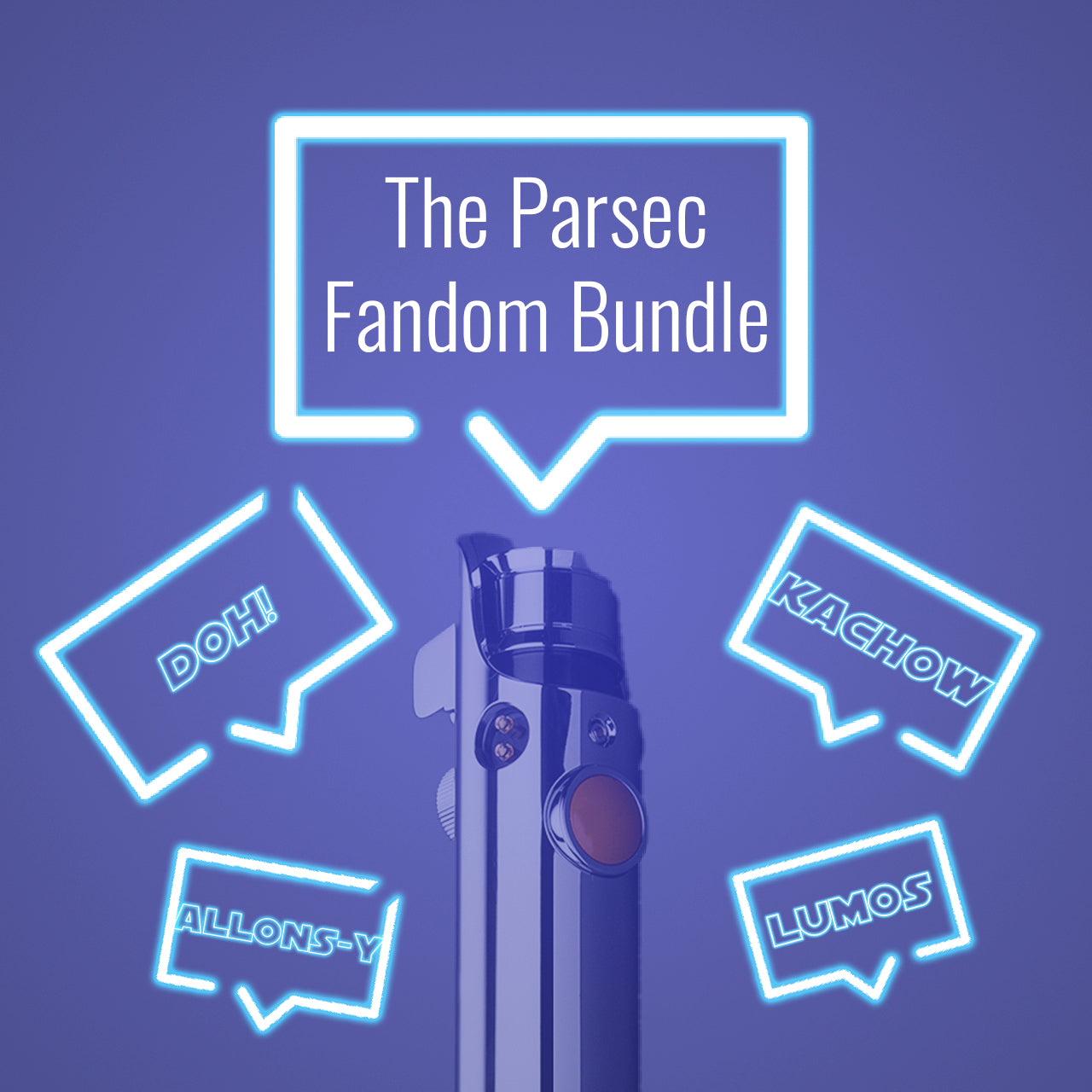 A Parsec Soundfont...
Unleash the ultimate in comedic power with our Xeno Saber Soundfonts. Designed specifically for our Xeno Sabers, these soundfonts allow you to replicate the sounds of some of the funniest and most recognizable sound effects. From the classic fart noise to the voice of your favorite animated character, these soundfonts will take your saber battles to a whole new level of hilarity. Available exclusively on Parsec Sabers and for Xeno Sabers, these soundfonts are the perfect addition for cosplayers, collectors, and anyone looking to add a touch of humor to their saber battles.